Honey Bees are dying massively worldwide. Bees are weakened by a parasite, the Varroa mite, which is also a formidable carrier of deadly viruses affecting bees. So far, Varroa can be fought with chemicals, which are not effective, though, and leave residues in the bee products.
The BeeEthic system is an INNOVATIVE HIVE that uses simple heat to kill mites, with NO CHEMICALS.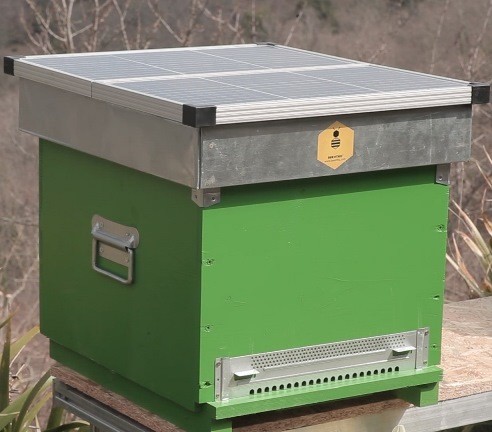 BeeEthic is a patented innovative system to defeat Varroa mites, which are threatening the very bees' survival worldwide. Colony Collapse Disorder is killing bees at scaring rates and our system is the solution to save bees and mankind with them…as man cannot live without bees!
The BeeEthic system applies heat within the hive. Varroa mites are sensitive to high temperatures and they cannot survive to temperatures higher than 108 F (42°C). This is an automatic system that does not require any manual application and enables beekeepers to get rid of dangerous chemical products to kill Varroa.
With our system beekeepers will be enabled to go back to the old good times, when Varroa was not a problem and bees were prospering!
The "brain" of the BeeEthic system is an electronic control unit which applies anti-Varroa treatments when they are needed. It also help bees to control the brood temperature, expecially during rapid variations due to climate irregularities.

Varroa mites reproductive cycle is much faster than the bees' reproductive cycle, making Varroa very aggressive. In one season a whole colony can be destroyed by Varroa, as shown in the graph below.

Up to today, Varroa has been killed only with strong chemical products which damage also bees and leave residues in the bees' products. Varroa adapts quickly to chemical remedies which has to be strengthened yearly to be effective.
All solutions that aremarginally effective are either highly toxic or illegal, because of their hazard to animal and human health.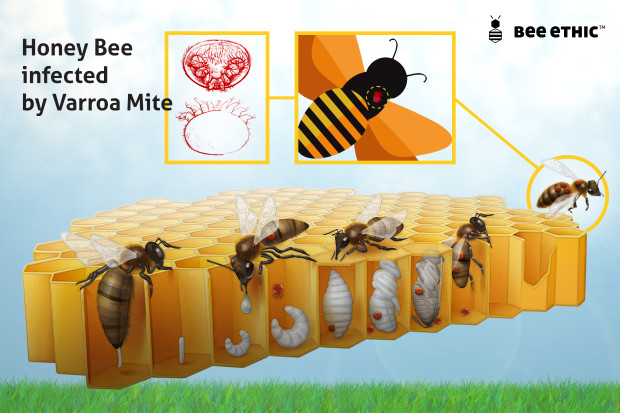 The BeeEthic system sterminates Varroa by heating the hive to 108 F(42°C), thus stopping the reproduction of the Varroa and eradicating it from the colony. Varroa is a viruses' vector, hence without Varroa a colony is also much healthier and less exposed to viruses.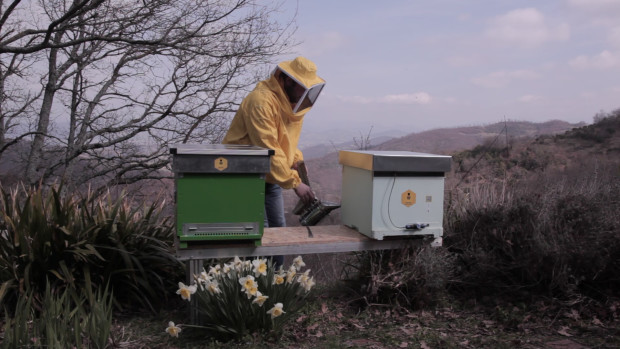 The BeeEthic electronic control unit applies automatic treatment monthly. It also help bees to maintain the ideal temperature in the brood (95°F; 35°C) making it less dependent on climate variability.
This method is 100% effective, as certified by the Italian Ministry of Environment, after 6 years of testing by the Perugia University (Italy).  
BeeEthic has exceeded expectations thanks to the strong contributions of a team of engineers, researchers and beekeepers. In our research we have found out that by keeping the Varroa population under a certain level, bees improve honey production as they enjoy better health, as shown in the graph below.

RESULTS (six years research by Perugia University)
NO SIDE-EFFECTS, NO QUEEN CASUALTIES
80% EFFICIENCY IN KILLING VARROA MITES
VIRUS SPREAD REDUCTION
BROOD DISEASES' REDUCTION
INCREASING IN HONEY PRODUCTION up to 30%
SAVING BEEKEEPERS' WORK up to 50%
PRESERVING HONEY RESERVES THROUGHOUT THE SEASON
Many studies show the thermal treatment's effectiveness. This is the only treatment certified as 100% effective, following a five year study by the Tubingen University (Germany). Tubingen inserted honeycombs into special ovens with a laborious process which makes it not easy to be used by beekeepers.
Varroa reproduction takes place in bee broods. About 80% of Varroa lives in the brood, with the remaining 20% traveling attached to the bees (phoretic Varroa).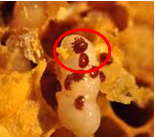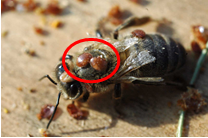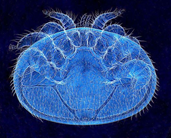 Chemical treatments are successful mostly on the phoretic Varroa. With the exception of the formic acid which can kill the Varroa also inside the brood. This has massive side-effects on bees, though.
Normally, beekeepers uses ossalic acid, which is also admitted for organically-certified honey as it does not have strong residues. However, its application is labor-intensive as up to ten treatments per season are necessary.
After 6 years of field research and testing in cooperation with university, expert beekeepers and clients, we did not come across any side-effect of the BeeEthic sytem,  which destroys Varroa mite during its reproduction cycle, avoiding its dangerous demographic explosion.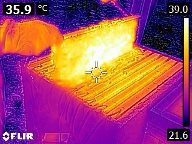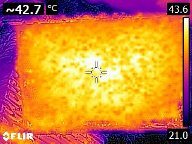 With automatically repeated treatments throughout the season (at every brood incubation), newborn bees are healthier!
By removing around 80% of the Varroa from the brood, we lowers the risk of viruses which are carried by the Varroa mite (DWV, ABV, IAPV, KBV CBPV, etc.)
With a constant temperature in the hive, controlled by the BeeEthic system, we reduce honey self-consumption by the bees. In fact, over half of the honey produced in a hive, is needed by bees to  production is needed to maintain the ideal temperature of 95 F and support healthy bees.
With evident effects of climate change, challenges to the bees have become formidable. BeeEthic helps maintaining a constant temperature in the honeycomb, avoiding several problems, such as  COOLED BROOD, CALCIFIED BROOD, FUNGUS, MAL DI MAGGIO, DYSENTERY, MAL NERO, etc.
Research Results obtained in 2013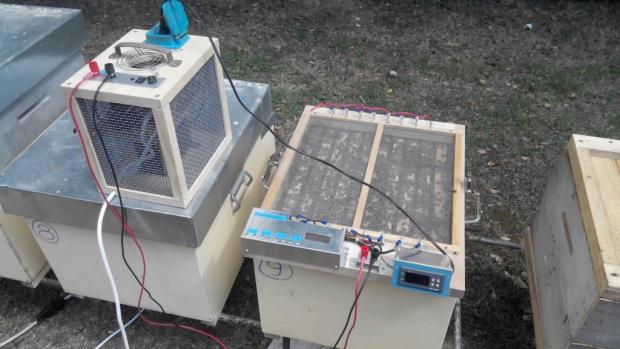 The initial research was carried out in collaboration with the Beekeepers Cooperative in Gubbio Italy and the Perugia University. It resulted in a 70% mortality rate of the Varroa mite after a single treatment which took place on five hives at the end of August 2013. This was a great result as efficiency was higher than any other product in the market, which were tested in control units.
Applied Research Results Obtained in 2014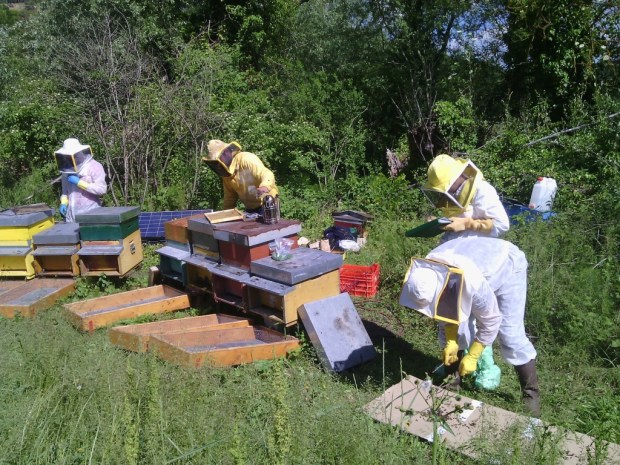 In 2014, our research covered 100 hives, making it a scientific relevant sample. The treatment resulted in the destruction of experimentation 80% of Varroa mites! Results were certified by the Perugia University and the Italian Ministry of Environment. A result much stronger than expected!
BeeEthic hitting the market in 2015
BeeEthic was marketed in 2015 and so far it is been used by more then 100 beekeepers worldwide. Many of them are making plans to expand the system to their whole apiary!!!
In 2017 we develop our software to apply the treatment automatically.  We care about our clients, whom we know personally and we consider friends. We did then upgrade the new software to all the systems already sold.
In January 2017, at the ABF Conference in Houston TX, we launched the Langstroth frame for the US market.
Currently, the company produces and sells:
1) Hive kits to install in an existing Dadant or Langstroth hives
2) Complete BeeEthic hives (with a Control Unit every 5 hives, powered by the grid, a solar system or a fuel engine, supporting also nomadism)
About 1,000 BeeEthic hives have already been installed throughout the world to full satisfactions of our friends bee-keepers.
With the funding we are collecting in this campaign, we will upgrade the BeeEthic System to:
The BeeEthic 2.0 system is connected to the BeeEthic cloud, enabling beekeepers to get access on their smartphones to their hives' information, including the brood temperature, the anti-Varroa treatments schedule. Beekeepers will also have the possibility to start manually a treatment over the phone, if they deem it necessary.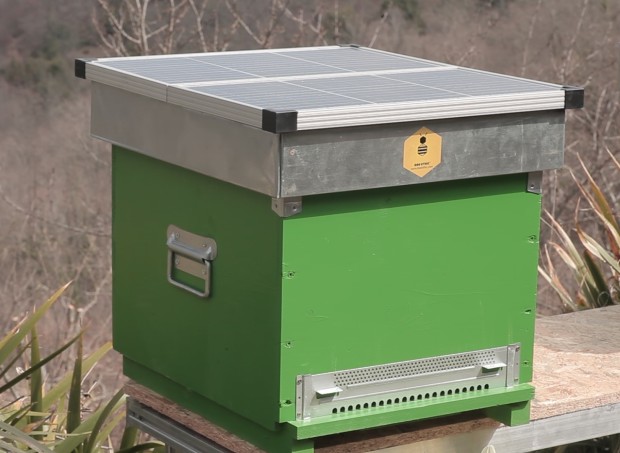 Dr. Tiziano Gardi, Perugia University, Head of the Research Team:
"The research was carried out in collaboration with F.A.I. (Italian Beekeepers Federation ) and the Beekeepers Cooperative from Gubbio-Gualdo for the past 5 years, during which we perfected the system, which has given good results. Three students did their graduation thesis on this research and every year we keep improving the system".
Dr. Marco Porporato, Researcher, Turin University
"Today we discovered this wonderful initiative promoted by BeeEthic, with their system that uses heat therapy to reduce the Varroa population breeding in the colony, I think it is a great innovation in the beekeeping scene, surely it will be favorably received by beekeepers"
Dr. Aulo Manino, Turin University
"I am familiar with the heat treatment method, but infortunatelly it presents serious technical difficulties. BeeEthic is a new device that addresses many of the problems that so far prevented the use of the heat treatment. Therefore it represents a turning point in the implementation of this methodology to fight Varroa"
Dr. Annalisa Balloi – Researcher and CEO of Micro4You
"Micro4You and BeeEthic have been working togheter for several years and during this period I was able to appreciate the effectivenees and innovative aspects of this method that I'm sure will lead to a revolution in beekeeping with positive ripercussions throughout the entire agribusiness sector"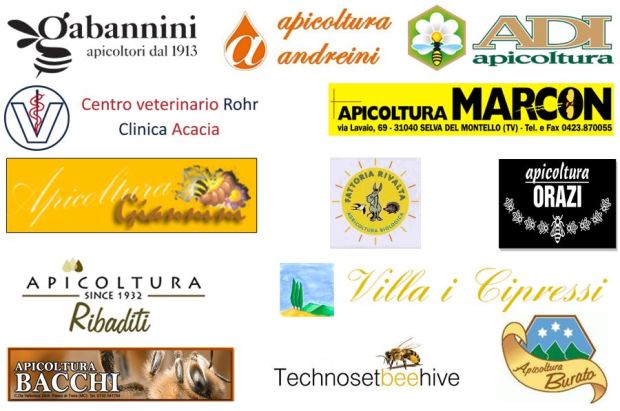 Don Mario Beekeeping –  Lugano, Switzerland
"Sixt months ago I've seen a BeeEthic advertisement and I've bought the system for 10 colonies. Now we are at the end of the season. I have opened the BeeEthic hives and I can conclude that they are the best in my 100-hive apiary!  To me the system works very well and I will buy it again, because for us what is important is the Bee!"
Mr. Federico Fusco, BeeEthic Beekeeper from 2015 – Italy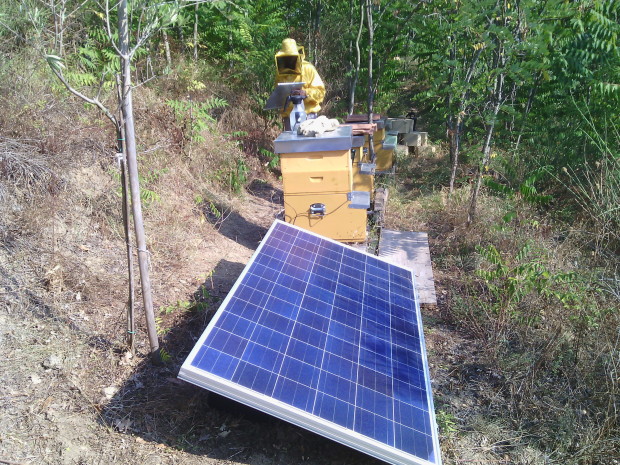 "I approached the BeeEthic world a bit by chance and slowly I used this technology a bit like a trial… and I have to say that – from this year – after a first year with a bit of uncertainty – I had the first results from the 4 BeeEthic colonies. They look very well. They have passed the Winter and now they are the best of my apiary! I'm expanding the BeeEthic apiary, doubling it from last year"
Adi Apicoltura, Large Beekeeping Company in Tornareccio since 1858 – Italy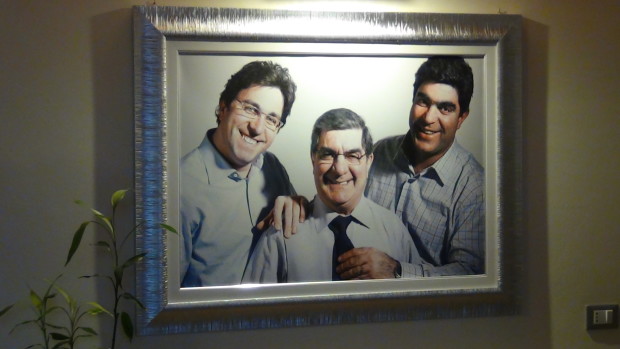 "We are an historical company established in 1858 by my grandfather. We are organic beekeeper since 1999 and this led us to try this new opportunity to fight Varroa. We saw Varroa mites dying. I wish you to secceed in making your product lighter and simpler because it is still a bit complex"
Beekeeping Giannini, Large Beekeeping Company in San Marino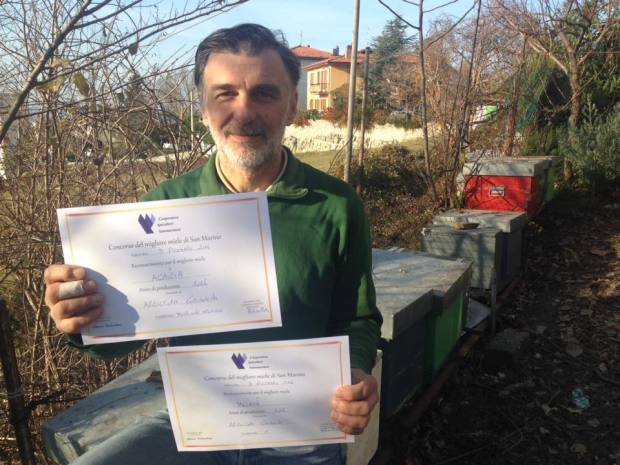 "I have been professional beekeeper for more then 30 years, I own about 1,000 hives. I always had problem with Varroa and I wanted to try new solutions. I use Ossalic acid and Apivar. Sometimes I have also blocked the queens but this is very complex as I have many hives.  BeeEthic impressed me! The first 5 test BeeEthic hives, after the first season, are beautiful, without using any chemicals. I then bought another 14 hives and I intend to expand the presence of BeeEthic in my apiary because I am fed up with so many chemical treatments."
Beekeeping Rohrwacher – Professional Organic Bekeeper, with Bee ethic from 2015 – Italy
"I have been a beekeeper for many years, since long time I have chosen to fight Varroa with methods approved under certified organic beekeeping. The main problem is the adaptation of the Varroa mite to whatever chemical substance we use. BeeEthic enables beekeepers to treat bees all year round, even doing the production period. The treatment is efficient as we can observe within the brood comb several dead mites. I'm certain that this will be the future!"
Other Thermal Treatment Technologies
The competitive advantage of the BeeEthic system is the integration of the thermic treatment within the hive as compared to treating honeycombs in ovens. This  makes the treatment simple and effective also for inexperienced beekeepers. BeeEthic is substantially less labor-intensive compare to the chemical treatments available in the market. It guarantees that all bee products (honey, propolis, royal jelly, wax, pollen, poison) are fully natural and organic!
Other thermic systems in the market are not even close to the results obtained by BeeEthic!
If you have high death rates in your colonies, BeeEthic is the best solution for you!
For Hobbyist Beekeepers. Your hobby will be more fun as your bees will get stronger, healthier and more productive. You will be able to stop using chemicals for your hives,  enjoying more your time with bees!
For Professional Beekeepers. With BeeEthic you will get stronger colonies and lower death rates. You will obtain healthy honey, without any residues. Treatments are complitely automatic, saving up to 30% time and labor. You will produce up to 30% more honey and you will stop loosing colonies. You will get your investment back in  less then 2 years!
For Start-up Beekeepers. BeeEthic offers the solution for healthy colonies without using any chemicals. You can enjoy more time to learn about bees, without bothering about the main beehives' problem: Varroa mites.
Honey consumers. Help saving honeybees, supporting our project. We will reward your support with delicius healthy honey!
In stead of spending their whole time to fight Varroa mites, beekeepers can check their hives' information directly on their smartphones!
8 thermal frames (with an heating element inside the honeycomb) are included in each beehive. They are connected by new spacers. A central frame is connected by a cable to the control unit, which controls the temperature in the hive.
The control unit controls automatically the brood and the bees, making information available online to beekeepers.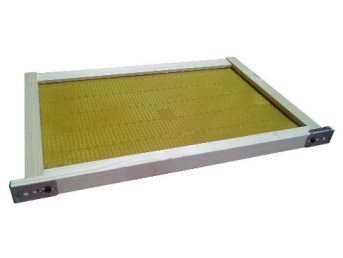 As shown in the graphs below, a 10 BeeEthic hives apiary costs similarly to traditional systems, if we compute the cost for treatments and the labor it takes for their application.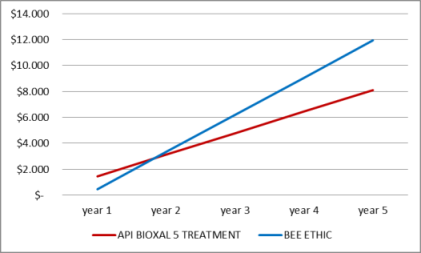 The investment is paid fully after two years of production.
The system's be life span is guaranteed for 5 years. Guarantee can be expanded to 10 years. Increased honey production (up to 30%) is not computed in this calculation, hence your BeeEthic system will be paid back even earlier! It will be even earlier if you consider that your organic honey can now be sold at a premium price!
Adopt a BeeEthic Hive
You get pure BeeEthic honey, which is the natural product of honey bees. Organic honey is produced by bees that were only fed with organically grown flowers. The BeeEthic Honey is the best you can find in the market because our bees were not treated with any chemicals.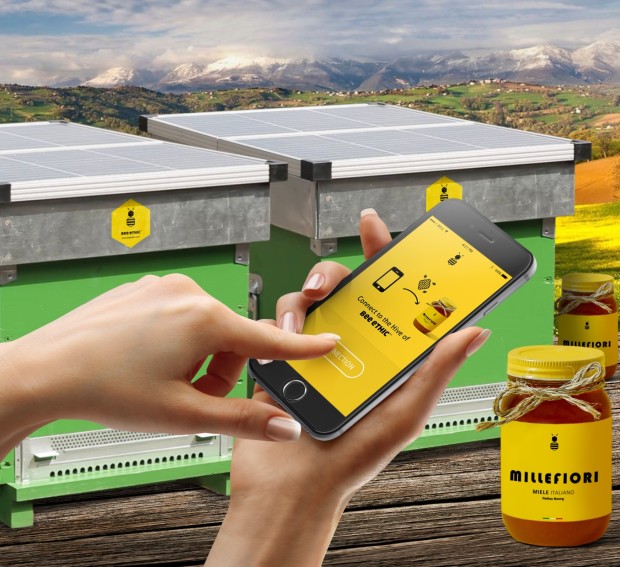 You get  10 x 500g (176,37oz) honey jars twice a year!
By reading the QR code on the jar, you can watch the latest news in a beekeeper's video-clip. This will enable you to stay connected to the producer, to get information on the honey, including on the different flowers' seasonality (Acacia, chestnut, millefiori, clover, arbutus, etc.).
By adopting a bee-hive you will help beekeepers, bees and the environment!
BeeEthic 2.0 Hive – solar is equipped with a solar panel, it performs heat treatments without connection to the grid. Heat is used for the automatic monthly treatment against Varroa and for hive conditioning throughout the season to increase honey production. You only have to put bees in the hive, plug the system in, check it on your mobile or laptop and it's ready to work.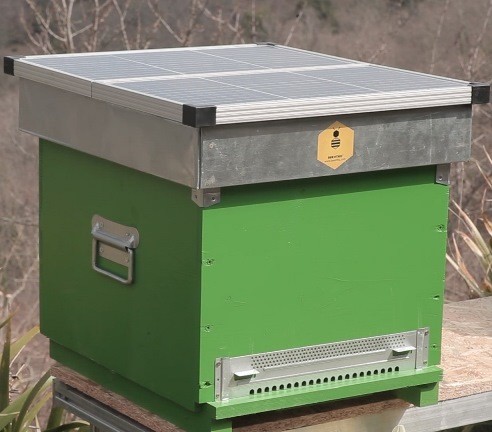 Tagliaferri Inc.
Sales and Service Worldwide
Mauro Tagliaferri – CEO
The inventor of BeeEthic and the patent holder. He is a young entrepreneur from Gubbio (Perugia – Italy).
He has always taken care of the family's land and bees with passion and respect for biodiversity and the ecosystem. These values led him to search for ways to ensure natural beekeeping and to finally discover the thermostatic anti-varroa treatment.
In 2012, he entered into a partnership with the Beekeepers Cooperative of Gubbio/Gualdo.
In 2013, he applied for two patents for anti-varroa treatment and climatization inside the hives.
In 2014, after years of research, he decided to dedicate his life to BeeEthic and he applied for two international PCT patents which are identified by the brand name BeeEthic.
In 2015, he marketed the first version of the BeeEthic hives.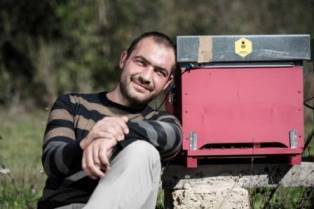 Eng. Ascanio Tagliaferri – FCO
Ascanio is Mauro's brother. They have been working together for the last 10 years in their limited company, Skanergy.
He graduated for the second time in 2006 and worked some years on a large photovoltaic company close to Bologna. He then decided to start Skanergy, a limited company, which installed about 5,000 kWp of photovoltaic energy generators in Italy.
In 2012, he decided to refocus the company on the BeeEthic project, which was taking off.
Ascanio is responsible for the technical research, prototyping and production.
Currently he took over responsibility for administration and R&D.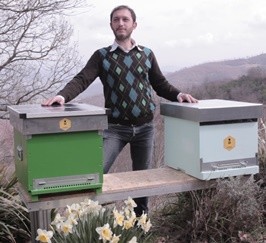 Skanergy srl – Italy company
Production and R&D
Eng. Ascanio Tagliaferri – CEO 
Mauro Tagliaferri – General Management​
Dr. Fabio Artuso – Sales Manager
He is the first private investor who trusted in the project potential. He believes money should go where the hear beats…and Fabio's heart beats close to nature!
Fabio has been working as diplomat for several years and he is now consulting with several international organizations supporting development in emerging Asian economies, including with the World Bank Group, the United Nations and the European Union.
He is responsible for the international expansion of the company.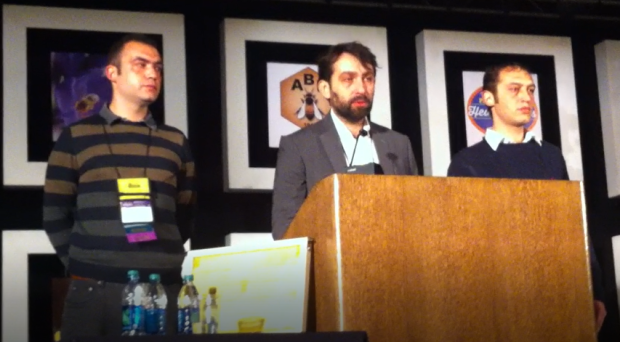 Dr. Aldo Biondi – Strategic Planning
He is an investor with an Agronomist and Beekeeping background. Aldo fell in love with the project and he decided to support the team both financially and with sharing his multi-annual experience in developing economies.
Also is currently supporting the international expansion of the company.